Dear Twinizens,
we just released another Wednesday-Patch with a number of improvements:
1. Now you can upload pictures to your profile. They show up in Game and on Twinity.com. This way you can share your best screenshots easily with other members or with a click of a button on Facebook:
2. We optimized the profile window, so now you can edit your slogan directly from the client, and access all important information about a member easily in one place: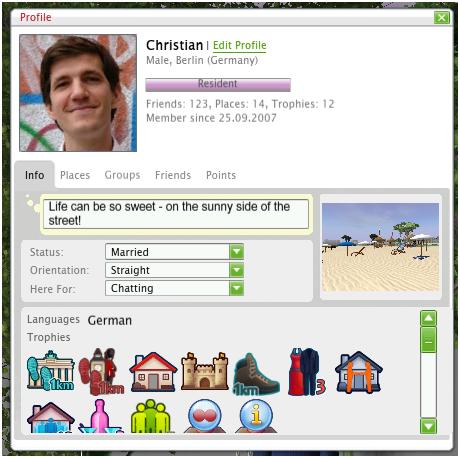 3. Following a request from Ayman we added Arabic character support to our chat windows
4. Following a request from Prof we enabled naked male torsos in public places
5. We hopefully fixed a rare bug with private messages sent by blocked users reported by Mish
6. The "enable chat animation" setting now also enables the automatic idle animations and therefore is called "enable automatic animations"
7. A bug with the knock system discovered by Sweetpea was fixed
8. We did several performance optimizations
Have fun with the new client!
Christian