3D online social community Twinity, the virtual world based on real people and real cities, has the ribbon cutting for the opening of its second US metropolis: Virtual New York. People from all over the world can now visit and even live in the city online 24/7.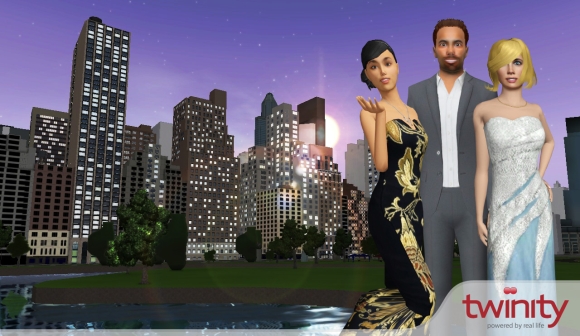 Berlin, 22 October 2010 – Twinity, the virtual world based on real people and real cities, is very excited to announce the opening of its fifth international city: Virtual New York!
From 22 October 2010 Twinity takes the Big Apple to the next dimension and opens a realistic replica of the area south of Central Park in 3D. The starting point of Virtual New York is at Grand Army Plaza and from there the online community can spread out to explore the city and it's world famous landmarks like the Trump Tower, Solow Building or the Pulitzer Fountain to mention just a few.
The city that never sleeps will live up to its name this weekend with lots of events, contests and parties. The opening will be on Friday, 22 October at 9 am EST/3 pm CET. Do not miss out and check the event calendar on twinity.com.
New York is a multicultural city and so is its virtual counterpart. It's easy to find a new home, settle down and start a new living with the help of Twinity's real estate market. Exclusive 3D living space is available for all members to hang out with friends or start a business and make a fortune in the virtual world.
The virtual world Twinity is currently in public beta. Register for free membership at www.twinity.com and start exploring the world today.
Read more about the other cities in Twinity
You can read more about Berlin – which was the first city that was launched in Twinity in 2008. After the great start in Europe, Asia was next on the agenda when Singapore was first set up. Later we returned to the European continent and created London. In the summer of 2010 we went across the Atlantic Ocean and opened up the first American city in Miami followed by New York in October.
More info can be found here: Berlin | Singapore | London | Miami | New York
Cities interested in building a 3D representation can find more information here: www.twinity.com/en/mycity.
– END –
Find press pictures to Virtual New York on Flickr.
Join Twinity on: Facebook | Youtube | Twitter
Information about Metaversum and Twinity:
Metaversum develops and operates the 3D mirror world Twinity. The vision behind Twinity is to bring the real and the virtual worlds closer together by building realistic replicas of the world's most vibrant cities in 3D. Berlin, Singapore, London and Miami have already launched in Twinity. New York is the latest city that has opened. Twinity members can create a personal avatar, explore real cities virtually, move into a 3D home, chat with friends, work, get creative, or just have fun together.
Twinity offers businesses new ways of engaging with real people in real virtual cities. Through virtual shops and branded presences, in-world ad campaigns, product placement, and real and virtual sponsored events, Twinity lets you enter into a genuine, emotive dialog with your target group. Twinity is currently in public beta and open for business. Founded in July 2006 and financed by leading venture capital firms, Metaversum has offices in Berlin, Singapore, Kiev, and Potsdam. More information can be found at www.metaversum.com and www.twinity.com.
Twinity Social Media Newsroom: www.twinity.com/en/newsroom
Do you have any questions or require additional material?
Barbara Ecker
Senior Manager Communication & Brand
Metaversum GmbH | Twinity.com
Rungestrasse 20 | 10179 Berlin | Germany
E: barbara@metaversum.com
F: +49 30 847 12 25 – 23